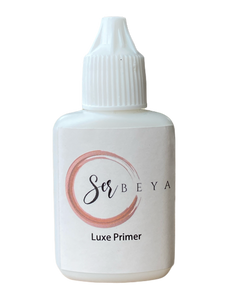 Luxe Primer - Lash Extensions Pre-Treatment
Regular price $17.00 Sale
I gotta tell you that this primer works really well before lash services. I use it before all lash lift and extension applications."
Ser Beya's Luxe Primer is ideal for prepping the natural lash for extensions or a lash lift.  It dehydrates the lash and pulls the oils making for better glue application.  Our pre-treatment cleans and removes oil residue. Will not cause irritation or allergies.
To use: apply a small amount on a microwand and sandwich the lash between the two wands. Swipe each lash from base to tip to remove oil and debris to prepare the lash for application.  Make sure lashes are dry before proceeding with your service.  
Shipping & Returns
SHIPPING POLICY: SerBeya processes and ships orders M-F excluding major holidays. Orders will be processed within 1-2 business days. 
LOST OR STOLEN SHIPMENTS: Serbeya is not responsible for lost or stolen shipments.  When your orders ships, you will be sent a tracking number, it is your responsibility to track your package.  USPS will have the most up-to-date tracking information. 
PRODUCT AVAILABILITY: If a product in your order is out of stock, we will notify you within 2 business days and either hold your order to ship in full or will ship your backordered item separately. 
RETURNS: all sales are final
INTERNATIONAL SHIPMENTS: SerBeya is not responsible for additional customs fees or taxes.  Any additional costs is the responsibility of the purchaser.  If taxes and/or fees or other such additional costs are refused at the time of delivery, your order will be returned and you will not receive any refund for shipping.